From left - Gabriel Jr., Theresa(wife), Gabe, and Carter
Please click the image above and you will be redirected to our online donation portal. Thank you so much for your support.
The Big Heads Big Hearts Foundation was founded to honor and carry on the legacy of Gabe Benson. Gabe was one of the most caring and selfess men you could ever hope to know. His generosity and concern for everyone he knew, and didn't know, defined his life. As a devoted husband, father, son, brother, and friend; Gabe always put others before himself. To that end, Big Heads Big Hearts seeks to honor Gabe by providing charitable support for multiple organizations in the greater Knoxville community.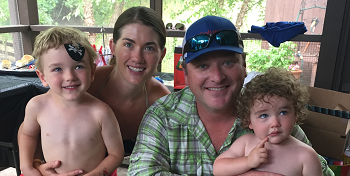 Big Heads Big Hearts raised $30,000 in 2019- $100k+ in total giving last 4 years
We have a lot of people to thank for the success our organization has experienced the last 4 years. Thanks to our sponsors and participants the 2019 Big Heads Big Hearts KTown Classic was a rousing success at Avalob Golf and Country Club. Enrichment Federal Credit Union stepped up again as our title sponsor making it possible for us to host a fantastic event. Additionally, the 2019 BKW Festival moved to Labor Day weekend, and BHBH was a primary beneficiary. Matt Beeler and the BKW team continued to support our fundraising efforts.
The $30,000 we raised, and subsequently donated to various organizations, raised our total giving to over $100,000 over the first 4 years BHBH has existed. It would not be possible without many businesses and inviduals. We are overwhelmed and overjoyed with the support and generosity of so many people. We have the easy part. Our role is to simply ask. Others do the hard part. They give of their time, their business, and their income. Out of the kindness of their hearts, so many friends and family continue to come together and help our family help so many others around East Tennessee.

The Big Heads Big Hearts Family would like to say thank you.