From left - Gabriel Jr., Theresa(wife), Gabe, and Carter
Please click the image above and you will be redirected to our online donation portal. Thank you so much for your support.
The Big Heads Big Hearts Foundation was founded to honor and carry on the legacy of Gabe Benson. Gabe was one of the most caring and selfess men you could ever hope to know. His generosity and concern for everyone he knew, and didn't know, defined his life. As a devoted husband, father, son, brother, and friend; Gabe always put others before himself. To that end, Big Heads Big Hearts seeks to honor Gabe by providing charitable support for multiple organizations in the greater Knoxville community.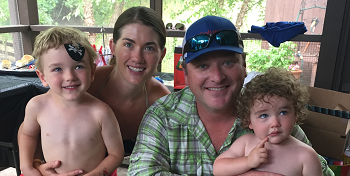 Big Heads Big Hearts Doubles Up - $30,000 raised in 2017
BHBH has doubled our fundraising from 2016 to raise $30,000 in 2017. This was made possible by so many donors, sponsors, friends, family and supporters.
We would like to thank Matt Beeler and the staff at Big Kahuna Wings, Courtney Delaura and Sugarlands Distilling Company along with Dan Buckner and MyVacation Haven.

Big Heads Big Hearts will again host a silent auction tent to raise money for this year's beneficiary organizations. We will begin accepting donations in February.
Big Kahuna Wing Festival
June 16, 2018 - World's Fair Park
Big Heads Big Hearts KTown Classic
August 10-11, 2018
Avalon Golf & Country Club
This year all events for the KTown Classic will be held at the Avalon Golf & Country Club.
Our golf tournament will be bigger and better in 2018. We will still have the team calcutta auction , but our hope is to generate more money for our beneficiary organizations.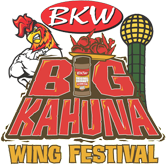 PLEASE VOTE FOR BIG HEADS BIG HEARTS IN THE SUGARLANDS DISTILLING COMPANY MOONSHARE GRANT GIVEAWAY
BIG HEADS BIG HEARTS has been chosen as one of the 46 organizations in the running to receive one of six grants from Sugarlands Distilling Company. Sugarlands Distilling Company's Year of Giving campaign is awarding $60,000 to nonprofits across the country, and we need our community's help to receive this grant!
Voting will take place throughout January. Starting with 48 organizations, every ten days half of the groups with the highest number of votes will move onto the next round until there are only six organizations left. Voting will take place at www.moonshare.org.