From left - Gabriel Jr., Theresa(wife), Gabe, and Carter
Please click the image above and you will be redirected to our online donation portal. Thank you so much for your support.
The Big Heads Big Hearts Foundation was founded to honor and carry on the legacy of Gabe Benson. Gabe was one of the most caring and selfess men you could ever hope to know. His generosity and concern for everyone he knew, and didn't know, defined his life. As a devoted husband, father, son, brother, and friend; Gabe always put others before himself. To that end, Big Heads Big Hearts seeks to honor Gabe by providing charitable support for multiple organizations in the greater Knoxville community.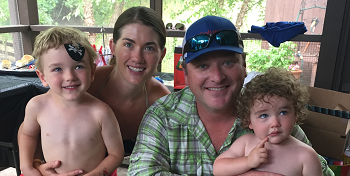 2023 KTown Classic Invitational
presented by
Big Heads Big Hearts raised $30,000 in 2022
$165k in total giving since 2016
THANK YOU TO OUR DEDICATED SPONSORS, SUPPORTERS AND PLAYERS
Friday, August 18 - Saturday, August 19, 2022
Avalon Golf and Country Club